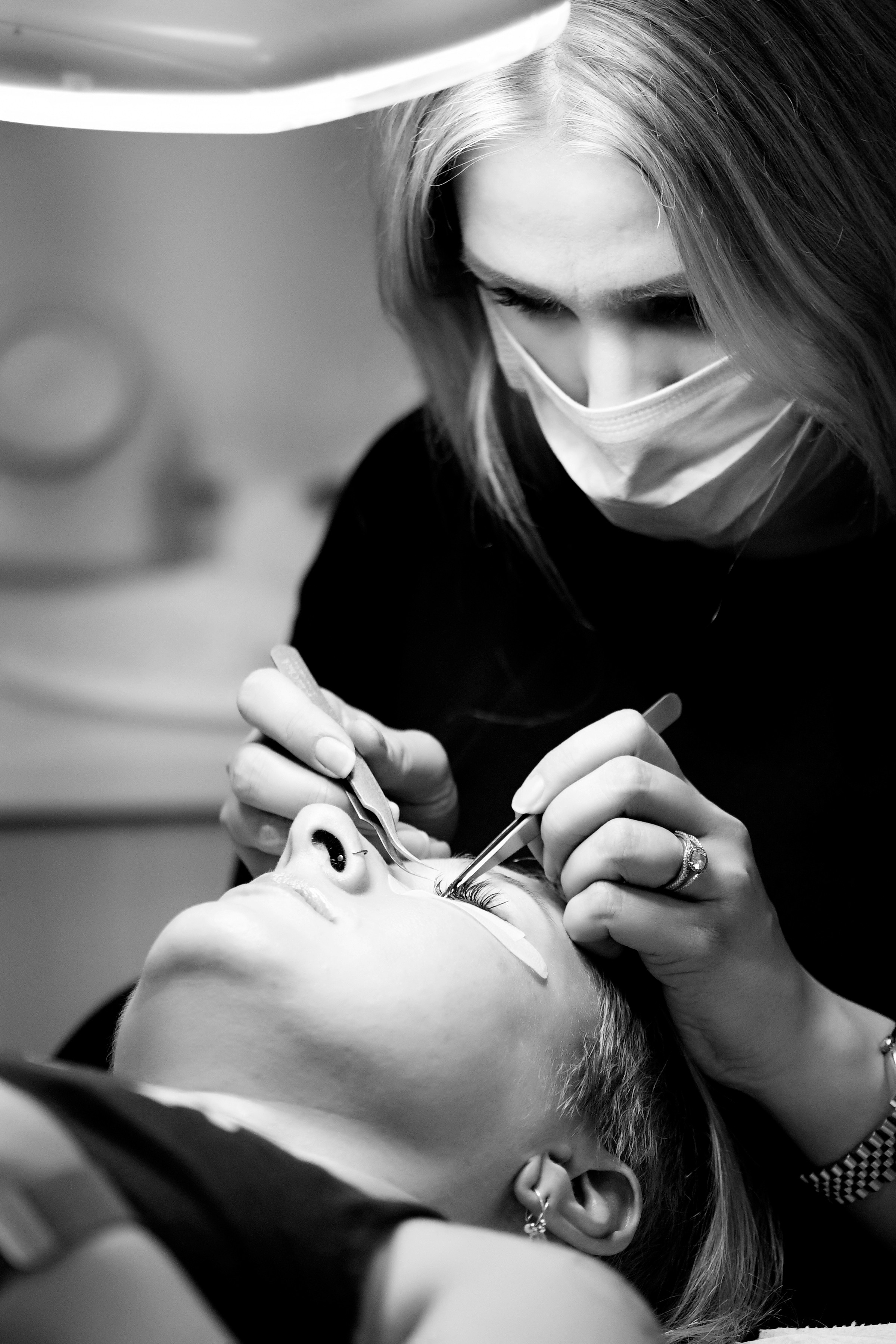 FAQs
What are eyelash extensions?
Eyelash extensions are individual lashes of different lengths, curls and weight (thickness) cut in the shape of a natural lash and applied one-by-one to each individual natural lash as an 'extension' of your natural lash. Lash extensions are not strip lashes, clusters or flares. Lash extensions are meant to lengthen, thicken and enhance the natural lash line without causing any pain, discomfort or lash loss when applied properly.
How long does it take to apply lash extensions?
The lash extension application can take anywhere from 1 to 3 hours, depending on the fullness of your natural lashes. The normal human eye has 150-200 lashes per eye. Volume lashes take twice as long to apply the lashes. The more lashes that you have, the more extensions we can apply! This is a meticulous procedure that requires patience and concentration. Therefore, it is important not to rush the process so that you can leave with a perfect set of lashes! You will be relaxing with your eyes closed, and you will feel no pain as this is a non-invasive procedure. Many of our clients are so relaxed that they often fall asleep!
What brand of adhesive do you use?
Terra Salon and Spa only offers the best in safety and quality when choosing an adhesive. Most adhesives are manufactured overseas and are equivalent to automobile adhesives full of formaldehyde and other carcinogenic ingredients. Our pharmaceutical-grade adhesives are formulated in the USA to be formaldehyde and preservative-free, as well as latex-free. Our glue is a low-viscosity, very fast drying/curing adhesive with just enough flexibility between the natural lash and the extension for a soft natural feel without causing irritation. This adhesive can be used in both Classic and Volume lash application.
Who wears eyelash extensions?
Not just for celebrities, normal, everyday ladies love eyelash extensions, and many can't live without them! From a highly visible business professional,to a bride on her special day, to a stay-at-home-mom who just doesn't have time for makeup, anyone who wants longer lashes that have the appearance of wearing mascara will love eyelash extensions. The extensions come in a variety of lengths, curls, and colors so you can have a the lashes you have dreamed of and that fit your style!
Can I still wear eye makeup?
Yes, but most clients don't even feel the need to wear eye makeup...Just wake up and go! No more running, streaking, smudging, or flaking mascara. You can still use eyeliner and eye shadows as usual, as long as it is not waterproof or liquid, as these products will break down the adhesive. Mascara is NOT recommended, as this will break down the adhesive, clump up the extensions and cause your extensions to come off earlier than expected. Terra has a water-based makeup remover which helps to remove irritating debris and keep you lash line clean and is perfectly safe for use around your extensions. We recommend that you use our makeup remover with our fluffy brush which comes in your after care kit to gently remove any makeup near your extensions so that you never have to rub your lashes as this will cause your lashes to come off early.
How safe are Eyelash Extensions?
The lashes are applied directly to the natural lash, never applied to the skin. The procedure is pain free and the extensions are feather light, so they will not pull your natural lashes out. We take extra care to make sure we cover each individual lash. We do not clump lashes together, apply them to the skin, or damage your natural lashes with an improper application. The eyes should always remain closed while receiving this procedure.
Can I wear mascara?
No. If you wear mascara, the longevity of your extensions will be greatly reduced and you will need to come in more often for a fill and we will charge extra to clean out your lashes and fill them back in. You can wear mascara on the bottom lashes, however, you must remove all your eye make up with our water-based cleanser before you go to sleep or your makeup will goop up the base of your extensions and cause your extensions to come off prematurely.
How long do they last?
Lash extensions require touch ups every 2-3 weeks to maintain their fullness. The longevity of your extensions will vary based upon your natural lash growth cycle; if your hair grows fast, then so will your extensions, and fills will be needed more often. If you follow our instructions for caring for your lash extensions, your lashes will remain fuller longer. The average human eye sheds 5-7 natural eyelashes per day, this is 70-90 natural lashes within 2 weeks (half your natural eyelashes), this is why we recommend fills every 2 to 3 weeks. If you return for a fill with less than 40% of your extensions in place, you will be required to obtain a full set. Our rates are set based upon time and coverage applied.
Can anyone apply lash extensions?
Licensing varies State to State. Check with your licensing board for regulations. Most reputable lash extension companies will only certify licensed beauty professionals. The State of Alaska Board of Barbers and Hairdressers requires ALL individuals that fall within this Occupational Licensing scope of practice to be licensed Estheticians, Hairdressers, our a Licensed Medical Professional. Nail techs ARE NOT legally allowed to apply lash extensions in the State of Alaska, nor are they allowed to do ANY body waxing without an esthetician license. Be careful who you allow to apply lash extensions to your eyes, just because they say they are certified, does not mean that they are, nor does it mean they are actually qualified. Ask to see their licensing credentials, ask to see photos of their "own" work, not stock images. Make sure the facility is clean and organized. If you have a "bad feeling", then best to walk away.
Who should not get lash extensions?
An individual with any allergy to adhesives or cyanoacrylate adhesives. An individual who has undergone chemotherapy over the last six months, or an individual who does not have natural eyelashes may not have Eyelash Extensions applied. Lashes that grow into the eye are not candidates for lash extensions either. If you suffer from an eye infection or a degenerative disease of the eye, we cannot apply lash extensions to your eyes. If your sleep on your face (stomach sleeper) you should not get eyelash extensions, you will continually end up rubbing them off in your pillow, and then be needing a full set at each fill appointment.
If I only have a few natural lashes, can I get lash extensions?
We apply lash extensions to your natural lashes. We do not glue the extensions directly to your skin. For those clients with little natural lashes, we can apply volume lashes for a thicker lash line.
Can I get my lashes wet?
Even though your lash extensions are waterproof, we do not recommend getting your lashes wet on a regular basis. We recommend avoiding allowing the shower water to beat down on your lash extensions, as anything constant and repetitive can cause your lash extensions to come off prematurely.
How do I care for my extensions?
Never allow shower water to beat directly on your extensions. Constant pressure on the extensions can cause them to "pop" off or wear off sooner than normal.
Do not rub, pick, pull or twist your extensions.
Do not sleep on your lashes. If you are a side sleeper, try and keep your lashes out of the pillow (sleeping on your side or your face creates wrinkles and lines on your face, in addition to ruining your lashes- incentive to Not sleep on your face).
Gently comb the tips of your extensions with the spoolie brush provided as needed to straighten and "fluff" your extensions. Do not over comb your extensions, or use the spoolie brush as you would with mascara.
Never use mascara on your extensions, as this will shorten the lifespan of your extensions, cause clumping, and dissolve the adhesive. You can use mascara on your bottom lashes.
Never use organic solvents or oil makeup removers on your extensions, as this will dissolve the adhesive and ruin your extensions.
Receive regular fills to maintain the fullness and natural look of your extensions.
Cleanse your eyelash extensions several times per week, if not daily, with our Lash Cleanse Remove; a water-based non-irritating lash cleanser.